Houseboat community bid floated in Scotland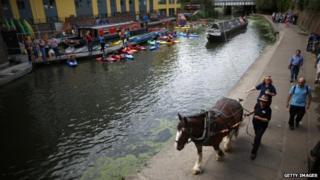 The organisation that runs Scotland's canals hopes to encourage people to live in narrowboats.
Scottish Canal said its Living on Water campaign had been inspired by "successful and vibrant" houseboat communities in other parts of Europe.
They included communities in Ireland, Holland, Scandinavia and London.
Pilot projects offering residential moorings have been launched on the Union Canal, at Edinburgh's Leamington Wharf, and Seaport Marina in Inverness.
Eight moorings have been created on the Union Canal and 16 at the Inverness marina at Muirtown Basin on the Caledonian Canal.
The 24 moorings will be released individually by auction later this year. The date of the first online auction will be announced next month.
Until now, only 25 official residential moorings have been available on Scotland's canals.
There are five at Ratho on the Union Canal and the rest at Auchinstarry, Bowling and Applecross Street on the Forth and Clyde Canal.
Scottish Canals hopes to follow up the pilots in Edinburgh and Inverness with a third project at Speirs Wharf in Glasgow.
Katie Hughes, estates director at the organisation, said: "Living on a boat certainly offers a greener, more relaxed and more individual way of life.
"It can also be significantly cheaper than living on land."
She added: "Today's boats are also warm, comfortable and well-specified coming in a range of styles and sizes, so this lifestyle can appeal to a wide range of people."