Explorer Sir Ranulph Fiennes accused of speeding on A9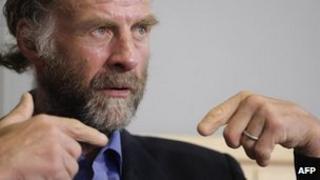 Explorer Sir Ranulph Fiennes has been accused of speeding on the A9 in the Highlands.
It has been alleged the 68-year-old, from Exford, Somerset, drove at 98mph in a 70mph zone at Daviot, south of Inverness, on 20 June.
Sir Ranulph, who has not yet lodged a plea, was ordained to appear at Inverness Justice of the Peace Court on 3 October.
He was the first man to reach both North and South Poles by land.
Sir Ranulph was also the oldest Briton to climb Everest in 2009 at the age of 65.
In 2003 he ran seven marathons on seven continents in seven days, and in 2007 he climbed the treacherous north face of the Eiger in Switzerland.