New crofts 'will reverse' Hebridean depopulation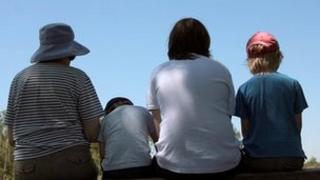 New crofts will help to tackle historic population decline on the Western Isles, the chairman of a community land trust has said.
The Highland Clearances of the 18th and 19th centuries saw families cleared from land to make way for large scale farming and sporting estates.
Since 1883, South Uist's has fallen from 6,000 to fewer than 2,000.
Angus MacMillan, of Stòras Uibhist, said reform of crofting law had opened up opportunities for new crofts.
He said tackling absentee crofters and neglect of crofting townships would also lead to homes becoming available to new inhabitants.
The Crofting Reform (Scotland) Act 2010 has measures designed to reduce absenteeism, the failure by a tenant to live on their croft or assign it to someone else.
Stòras Uibhist owns South Uist Estate and manages 93,000 acres (37,000 hectares) of land covering almost all the islands of Benbecula, Eriskay and South Uist.
Mr MacMillan said: "The Crofting Commission absentee initiative is painfully slow in producing results and freeing up crofts for a younger generation.
"But there are exciting opportunities for the creation of new crofts, especially under the 2010 Act, that will allow the devastating decline in our population to be reversed."
His comments came at the end of a four-day conference, Recovering from the Clearances, which was held in Balallan in Lewis.
Representatives from Galson Estate - also in community ownership - and Community Land Scotland attended.
Mr MacMillan said allowing communities to take over land was also key to encouraging people to move back to islands and rural areas.
He said: "The result is that the population of islands like Gigha and Eigg are increasing for the first time in a hundred years.
"There is no reason why island communities cannot play an increasing role in managing their ferry services so they better meet the needs of island residents, or take over the management of the sea-bed and natural resources."