Advice issued ahead of Nato's Exercise Joint Warrior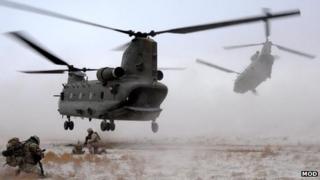 Advice for civilian air crews and sailors has been issued by the Royal Navy and Civil Aviation Authority (CAA) ahead of a major Nato exercise.
Exercise Joint Warrior is held twice a year - in April and October - and sees armies, navies and air forces training around Scotland and the rest of the UK.
The CAA has warned pilots to expect "high-energy evasive manoeuvres" in air space designated for the training.
Sailors and fishermen have been warned to expect warships and submarines.
Joint Warrior, Europe's largest military exercise, will take place from 1-11 October.
The training prepares Nato forces for war fighting and anti-terrorism missions.
April's exercise also played a part in preparing UK personnel for security operations at the London 2012 Olympics and Paralympics.
The CAA has issued guidance on areas which will be designated for military fast jets and other military aircraft.
In the advice, the authority said: "When activated, intense aerial activity can be expected, with large formations of fast jet attack aircraft conducting high-energy evasive manoeuvres against opposing air defence aircraft."
The CAA goes on to warn: "Civilian aircraft are advised that if they proceed into the areas when active they should expect intense aerial activity and aircraft may not be able to comply with Rules of the Air."
Two near misses involving military aircraft occurred over Scotland during April's exercise.
A Tornado GR4 jet and a Merlin helicopter were involved in the first incident over Skye and a Tornado and a C130 plane in the other over Moray.
Both were investigated by the CAA UK airprox board.
Of the two near misses, the incident on 24 April near RAF Lossiemouth, in Moray, was categorised by the board as the most serious.
A Tornado crew flew about 25-50ft above and about 100-300ft away from one of two C130s coming in to land at the air station after a training mission.
The transport planes were understood to be with the US Air Force.
Earlier, on 19 April, a Tornado GR4 flying out of Lossiemouth passed less than a mile away and 250ft above a Royal Navy Merlin.
The airprox board said the jet crew flew close enough to cause the helicopter pilots concern.