Scottish councils hit back at EIS profit claims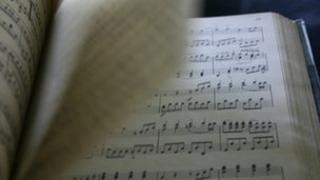 Councils have hit back at a teaching union's claims that they profit from charging for instrumental music tuition.
The EIS said Scottish local authorities used net profits from the fees to "shore up" other budgets.
Aberdeen, Highland and Moray councils were among those criticised.
But the local authorities said many primary and secondary pupils received free tuition and that the income raised was put into music budgets.
The EIS gathered details on music tuition charges through freedom of information requests.
John Mustard, head of Moray Council's instruction service, said the authority's income from tuition charges last year had been £119,000.
In the new financial year, it aims to raise £133,000. This money would be added to £341,000 from Moray Council's funds to give a total of £474,000 of spending on music tuition.
Mr Mustard said 4th and 5th year pupils studying SQA music exams received free tuition. Pupils who qualify for free school meals can also take up tuition free of charge.
He added that those parents who do pay £200 for their children's tuition were "contributing to lessons" which were subsidised to the tune of 65%.
Highland Council said it had a net income of £453,000 from tuition fees.
It has an annual charge of £252 per pupil for session 2012/13, but 352 pupils received exemptions or reductions in fees.
Alasdair Christie, chairman of the adult and children's services committee, said: "We are wholly committed to providing tuition in schools and almost 3,000 pupils currently benefit from the expertise we provide through our team of full-time instructors.
"We increased the charges following a public consultation in 2010, when it was recognised that this was preferable to reducing the number of instructors we employ.
"The fees we charge help cushion the full costs and ensure we can continue to provide an excellent service to our pupils who want to learn a musical instrument."
Aberdeen City Council said it had not and did not make a profit from providing music tuition to pupils.