What does Highland report reveal about elections?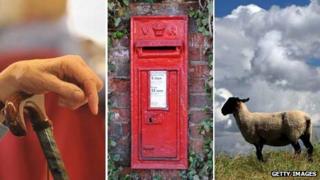 Officers at Highland Council have reviewed the turnout at May's local elections. So, what does it say about the region's electorate?
Local authority elections were held throughout Scotland in May using the Single Transferable Vote system, or STV.
Officials at Highland Council were asked to provide councillors with a picture of the turnout, and suggest ways of encouraging more people to use their vote.
The officers' report on that review will be considered by Highland's community safety, public engagement and equalities committee on Wednesday.
Spreading the word
Highland Council designed and printed 115,000 election-related leaflets, which were sent to homes along with council tax letters.
It also issued six news releases about the election, while on its website it provided a guide on how to complete postal vote papers and also used Twitter and Facebook to raise awareness.
For the first time the Electoral Commission had a statutory role in explaining to the public how to vote. It had an information booklet delivered to every household in Scotland, ran TV, radio, press and online adverts.
In an effort to grab the attention of young voters, animated characters Victor the Voter and Ballot Box Man were created.
Older voters were given information through joint efforts involving the Care Inspectorate and Scottish Human Rights Commission, while Shelter Scotland helped to reach people living in temporary accommodation.
Post modern
Encouraging greater use of postal votes could boost election results in the future, according to the Highland Council report.
The postal voting turnout was 62.7% across the local authority's 22 wards.
In the report, officers said: "Postal voters are more likely to use their vote, so further encouragement of this option should be pursued locally and nationally."
They have also suggested that other initiatives could be examined such as early voting, weekend voting and voting online.
Candidates could also be invited to write 250 words about their campaigns and the information then sent to voters.
Flagging polls
Turnout at Highland polling stations was not so great, at 37.7%.
Wick in Caithness had lowest below average turnout for a polling station with 23.8%
X does not mark the spot
Of 73,343 ballot papers processed at the Highland count in May, 912 votes were rejected.
Officers said the rejection rate was 1.24%. In other parts of Scotland it varied from 0.55% in Orkney to 2.79% in Glasgow.
The report said a small number of people may not have understood the voting system and used an X, rather than numbers.
Older women, people with legal guardians and people aged 18 to 24 were the most likely to make mistakes, according to the report.
Know your A to V
Five different voting systems are used in statutory elections in Scotland.
First-past-the-post (FPTP) in UK parliamentary and Cairngorm National Park Authority elections; single transferable vote (STV) for local government and health boards; additional member system (AMS) in Scottish parliamentary elections; closed party list system (CPLS) for the European parliament and alternative vote (AV) in Crofting Commission elections.
What's next?
Highland Council say at least six elections and potentially two referendums could be held in the region from 2013 to 2017.