Teens 'important' to Highland voter turnouts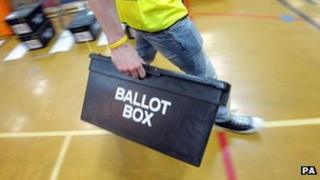 Encouraging teenagers to take an interest in elections could help to boost voter turnouts in 2017, Highland Council officials have said.
Officers were asked to review May's local government elections and look at possible factors that led to low numbers of people going to the polls.
They said at least six elections and potentially two referendums could be held in the region from 2013 to 2017.
Officials said children aged 13 now would be eligible to vote in 2017.
In May, the average turnout across Highland Council's 22 wards was 41.7%, according to the report. Across Scotland the turnout was 39%.
Highland's officers said low turnouts were an issue for many local authorities. They have made a series recommendations on how to encourage more people to vote in the future.
In the report, they said: "One of the interesting facts of the 2017 election is that the electors attaining the age of 18 that year are aged 13 just now.
"Therefore the critical involvement in teaching citizenship in schools cannot be underestimated."
Among the officers' recommendations is to develop a programme, supported by council services and external bodies, that would try to enthuse young people about the 2017 Highland Council election.
Another suggestion is that councillors raise their concerns about low turnout at the 2012 election with the Electoral Management Board for Scotland.
Following May's election, Highland Council's Independent Group said voters were confused by the Single Transferable Vote (STV) electoral system.
The councillors believed it was a factor behind a low turnout at this month's local authority elections.
The Electoral Reform Society Scotland responded to the criticism. It said STV gave voters greater influence over results than the former system, First-Past-the-Post.
Its analysis of council elections in Scotland and England, where First-Past-the-Post was used, showed voters north of the border having a better chance of getting who they voted for.