UK American Civil War tribute hope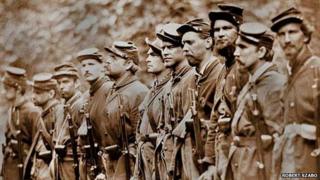 An American Civil War interest group has unveiled plans to get new memorials created to honour British and Irish men who fought in the conflict.
Edinburgh has a monument to Scots who served in the Union Army against the South. Unveiled in 1893, it is the only tribute of its kind outside the US.
The American Civil War Round Table UK's plan is for two plaques remembering those who fought for both sides.
One plaque would be erected in the UK and the other in the US.
In the States, 150th anniversary events to mark the 1861-1865 war started last year and will run through to 2015.
Of the three million men who bore arms, 300,000 were of British or Irish birth, the American Civil War Round Table UK said.
'Memorialise the sacrifice'
They fought for Union and Confederate forces in bloody land and naval battles and skirmishes.
By the end of the civil war a total of 620,000 were dead. The number included combatants from Britain and Ireland.
American Civil War Round Table UK president, Greg Bayne, said: "It was not their fight but Britons played their part in the terrible conflict.
"They came from all parts of the United Kingdom and they included many Irish.
"After the war a monument to the Scots who fought for the Union was raised in Edinburgh, but no monument has ever been erected to memorialise the sacrifice made by all those who took part."
Edinburgh's memorial, which features a bronze sculpture of a freed slave at the feet of President Abraham Lincoln, was unveiled in Old Calton Cemetery in 1893. Donations from Scottish-American families had paid for it.
It is inscribed with the names of six Scottish soldiers: Lt Col William L Duff, Sgt Maj John McEwan, Robert Steedman, James Wilkie, Robert Ferguson and Alexander Smith.
They had served in infantry and artillery regiments and also the cavalry.
Increase awareness
Many others from Britain and Ireland were drawn into America's violent conflict which had been sparked by clashes over slavery, politics and culture.
They included Robert Egan, from Chorley, Lancashire, who sailed with the Confederate Navy.
Members of the UK round table group have formed a new organisation to increase awareness of the memorials plan.
Called the American Civil War Commemorative Association and led by Basil Larkins, it will look at what sort of memorials should be created and where they should be situated.
The association hopes to raise funds for two plaques. One to be sited in the UK and the other in the US.
Mr Bayne said: "The plaques are to honour not just those who took up arms to either preserve the Union or defend Southern rights, but also the journalists, politicians, military observers and other intrepid travellers who witnessed these momentous events."
British civilians who became caught up in the civil war included English-born artist Alfred Waud. He was commissioned by newspapers to provide illustrations of battles and military manoeuvres.
'Real impact'
Paisley-born Alexander Gardner photographed the aftermath of bloody clashes. His 1862 exhibition, The Dead of Antietam, was the first time in history that the general public had been able to view photographs of a war.
Gardner's work has inspired and influenced modern day American photographers such as Richard Barnes and Robert Szabo, who use the Scot's wet plate collodion photography process to re-create civil war scenes using re-enactors.
Szabo, who featured in a BBC documentary about Gardner, first saw the Scots' civil war images when he was a boy.
He said: "I didn't know who took them then but they really had an impact on me.
"Shortly after I starting doing wet plate in 1998 I picked up a copy of the book by Mark Katz about his life. Gardner set the mark high with the work he produced."
Szabo added: "I used to work just a block from where his studio stood in Washington DC. Many times I would look at that corner and try to imagine what it might have been like there during the civil war."