Mourners gather for brothers Ewen and Jamie Beaton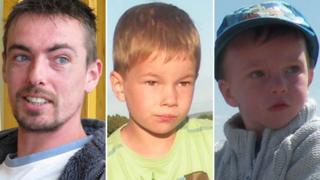 The funeral has taken place of two young brothers who died following a boating accident on Loch Gairloch in Wester Ross.
Ewen Beaton, five, and Jamie Beaton, two, had been on a trip from their home near Beauly with their father Ewen, 32. His body has not been recovered.
Grace Mackay, five, who was also in the canoe with her sister Callie, eight, and their father Garry, also died.
The brothers' funeral was held at Inverness Crematorium.
A funeral was held for Grace Mackay on Wednesday at East Church, in her home village of Muir of Ord, near Inverness.
Her father and older sister survived and managed to swim to shore and raised the alarm.
The Beaton and Mackay families were making a trip on the sea loch on 26 August when their Canadian canoe capsized.
Ewen and Jamie Beaton were airlifted to Raigmore Hospital in Inverness, but Northern Constabulary later confirmed they had both died.
Grace passed away at the Royal Hospital for Sick Children in Glasgow the day after the accident.
The boys' father remains missing and searches have been made to find his body.
Earlier this week, the two families thanked the emergency services, hospital staff, friends and family for their efforts to rescue and search for their loved ones.