Drumochter Pass track 'emphasises impact' on Scots hills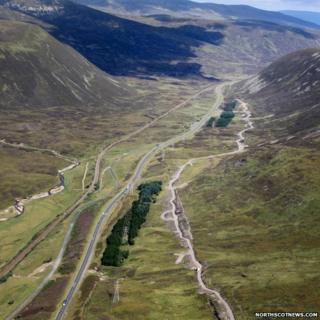 A new aerial photograph highlights the "visual intrusion" tracks built for construction projects have on the landscape, campaigners have said.
The track close to the A9 and Highland Main Line in the Drumochter Pass has been built to aid work upgrading the Beauly to Denny power line.
The Mountaineering Council of Scotland, which has campaigned against hill tracks, has criticised the access road.
SSE said the track was temporary and the land would be restored.
The Drumochter Pass has been used by travellers since prehistoric times and today has man-made features such as the A9 trunk road, railway line, electricity towers and forestry plantations.
Hills in the area are popular with hill walkers.
The aerial image was obtained by a Highlands-based photographer.
The MCofS, which has seen the photograph, has been campaigning for greater planning controls on the construction of new hill tracks.
It has also been calling for a moratorium on wind farm developments, and the access roads needed in their construction, in Scotland's mountains.
'Fully committed'
MCofS chief officer, David Gibson, said: "We recognise that the Drumochter Pass has been a main thoroughfare for centuries and the existing roads, rail and cycle tracks are part of the established infrastructure and landscape.
"However, the new construction roads, built specifically for the purpose of erecting the Beauly-Denny power line and shown in the photograph, emphasise the visual intrusion and irreversible impact that new construction roads have in the mountain landscape."
SSE subsidiary, Scottish Hydro Electric Transmission Ltd, said it recognised the Drumochter track had a "temporary visual impact".
The spokesperson said: "It has always been our intention to remove the temporary access tracks, permitted within the consent of the Beauly to Denny project, once construction work is complete.
"This is included in our restoration plan for the Drumochter hills area, which has been approved by Scottish Natural Heritage.
"We acknowledge the temporary visual impact of the tracks but are fully committed to restoring the landscape back to its former condition."
The power line between Beauly in the Highlands and Denny, near Stirling, is being upgraded at an estimated cost of £600m.
The project will see new 42m to 65m tall towers along the 130-mile (209km) upgraded route.