Osprey raised in Scotland in European record claim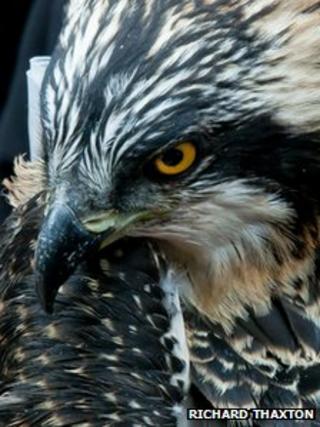 A young bird of prey raised in the Highlands has made what the RSPB believe to be the fastest migration of any satellite tagged European osprey.
The raptor, nicknamed Alba, flew 3,000 miles (4,828 km), from the RSPB's Loch Garten reserve, near Aviemore, to West Africa in two weeks.
It was making its first migration, journeys that usually takes the birds months to complete.
Alba and sister Caledonia were fitted with tags before leaving their nest.
The birds can be tracked online by the RSPB and the public.
Loch Garten site manager Richard Thaxton said Alba's time was "astonishing".
He said: "Alba has travelled from Loch Garten in Strathspey to southern Mauritania close to the border with Senegal.
"Other tagged birds have taken months to do this.
"It is all the more remarkable when you think that this is her first migration, with sea crossings to contend with and all sorts of weather.
"It's good to know she has arrived there safely."
Other Loch Garten chicks have not been so lucky.
In 2007, an adult male kicked eggs fathered by a rival from a nest before accidentally trampling on his own clutch.
A year later, a bird called Deshar died after making a "navigational error" and missing landfall in the Azores.
Then in 2009, Deshar's sister Nethy was thought to have died after reaching Africa.