Halifax-born Karen Darke wins Paralympic Games silver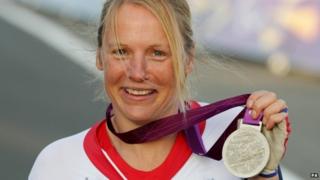 Highlands-based adventurer Karen Darke has won silver in the women's H1-2 time trial in cycling at the London 2012 Paralympic Games.
The Halifax-born 41-year-old was paralysed from the chest down in a sea cliff climbing accident when she was 21.
She is competing at road cycling using a hand cycle.
On Friday, Ms Darke will compete again when she contests the women's individual H 1-3 road race.
Following the Games, Ms Darke, who lives in Inverness, will resume her preparations for an expedition to the South Pole.
In 2006, she was one of a team of adventurers who took part in an expedition that completed a gruelling crossing of Greenland's ice cap.
Ms Darke sat on skis and used arm power and ski poles to cover the 372 miles (600km).
She has also climbed Mont Blanc, Matterhorn and California's El Capitan and hand-cycled the length of Japan.