Scots ice axe inventor Hugh McNicholl dies in Australia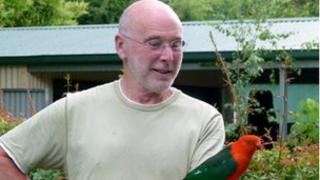 A pioneering Scottish ice axe inventor has died in Australia. He was 66.
Former Rolls Royce engineer Hugh McNicholl set up his own business in Glasgow in the 1970s.
He later changed the firm's name from Mountain Engineering to Mountain Technology and opened a small factory in Balluchulish, Glencoe, in the 1980s.
Many of the Vertige axes and hammers which he made were sold to the military.
Mr McNicholl was a member of Glencoe Mountain Rescue Team and also worked on stretchers invented by another mountain climbing pioneer, Hamish MacInnes.
A number of Mr McNicholl's creations are held in the Scottish Mountain Heritage Collection.
He left Scotland after his company got into financial difficulty and went out of business.
Former RAF Kinloss Mountain Rescue Team leader David "Heavy" Whalley paid tribute to Mr McNicholl.
He said: "Having married an Australian girl, Hugh emigrated to Australia and Scotland lost the 'all Scottish ice-axe' and a great Scottish character in one go."
Mr Whalley added: "He took lots of young climbers under his wing and was always very good with giving them new kit to test.
"The Vertige axe and hammer was a great bit of kit at the time and well used by thousands of climber all over the world."