How is a dead whale disposed of?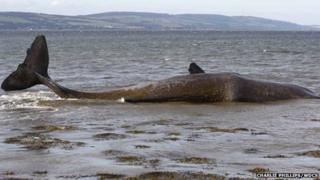 Earlier this week, 17 whales died after stranding on a Fife beach. But what happens next and how do you dispose of large marine animals?
According to the latest available figures, 996 whales, dolphins and porpoises foundered on Scotland's shores between 2005 and 2010.
Most of those coming to grief were harbour porpoises, a relatively small marine mammal that can grow up to about two metres (6ft 6in) in length.
But other casualties have included sperm whales, which are leviathans of the deep, and can be as long as 20m (65.7ft) - much longer than a double decker bus.
When these monsters come ashore they pose weighty challenges to the authorities.
In December 2006, a 13m (42.7ft) sperm whale washed up on Roseisle beach in Moray.
It cost about £12,000 to have the carcass cut up and disposed of in an incinerator. Moray Council and the Scottish government funded the work.
Another sperm whale became stranded at Alturlie on the Inner Moray Firth near Inverness in August 2008.
This 12m (40ft), 30 to 45-tonne creature caused a headache for the police as well as Highland Council.
Alturlie lies at the end of a single track road and hundreds of people were drawn to catch a rare glimpse of such a massive creature out of the water.
Police and traffic wardens established a temporary car park a short walk away from the beach to deal with the traffic.
Northern Constabulary were also concerned about souvenir hunters.
The lower jaw bone of the Roseisle whale, which houses its teeth, had been cut off but was later traced by police.
With permission, a tooth was removed from the Alturlie whale and is held in the collections of Inverness Museum and Art Gallery.
Remote location
But, as with other strandings, there was an emotional cost to the incident.
Members of organisations such as the Scottish SPCA and Whale and Dolphin Conservation Society attended but could not rescue the whale, or do much to ease its suffering.
It was too large to be put down, leaving the various staff and volunteers only able to encourage the gatherings of onlookers to keep quiet so they did not add to its distress.
After the animal died, an abattoir sent 10 workers and two lorries for the task of cutting up and taking away the whale's body.
The remains were incinerated at a plant in the Moray town of Keith and the beach was also disinfected.
Highland Council said the disposal and clean up operation cost about £50,000, with the Scottish government meeting half the cost.
Last year, 16 long-finned pilot whales died, which grow to between 3m and 6m, in a stranding at Kyle of Durness, on the north Highland coast.
The carcasses were buried at a remote location after Highland Council got permission from the landowner and the Scottish Environment Protection Agency (Sepa) to do so.
Costs of that disposal work ran to less than £10,000.
The death of a whale in a stranding also marks the start of a detailed scientific investigation.
In Scotland, the work is carried out by SAC through the Scottish government-funded Scottish Marine Strandings Scheme.
The Scottish data also feeds into the UK Cetacean Strandings Investigation Programme (UK CSIP).
The two organisations are concerned with the strandings of all large marine animals, and not just whales.
UK CSIP, the most up-to-date statistics, detail thousands of incidents between 2005 and 2010 - 3,430 cetaceans (whales porpoises and dolphins), 76 marine turtles and 27 basking sharks.
Tissue specimens are taken from creatures too large to be examined in a laboratory.
Following tests, the samples are kept in an archive where they are stored at -20C and -80C in a formalin or an alcohol solution.
And the causes of death are varied.
The Scottish scheme records porpoise, seals and dolphins dying from starvation following from bacterial pneumonia, eye injuries hampering an animal's ability to hunt and also deaths caused by attacks from other marine life.
The tasks of investigating and disposing of the Fife pilot whales is now under way.
Samples have been taken and the carcasses have been transported to Keith in Moray, where they will be incinerated at a cost to Fife Council of up to £12,000.