Beaver killing may be necessary in future, SNH report says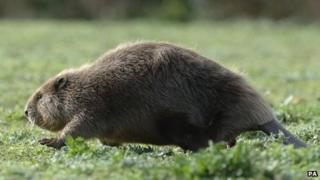 Killing beavers may become necessary to control their numbers if the animals were formally reintroduced to Scotland, according to a new report.
Beavers have been released in Knapdale, in Argyll, in a trial project.
A wider programme of releases in the future could, in some places, see the animals causing problems by damaging trees and crops, the report said.
The authors of the study said healthy beaver populations in Germany were controlled through hunting.
Scottish Natural Heritage (SNH) commissioned the research.
It looked at how conflicts between reintroduced species and landowners, farmers and crofters could be resolved legally and within EU rules protecting the wildlife.
In Scotland, the species include beavers, white-tailed sea eagles and red kites.
Researchers investigated how other European countries dealt with beavers and also grey wolves and lynx.
The researchers have made a number of recommendations to how public concerns over Scottish reintroductions could be resolved and balanced with the benefits they bring to biodiversity and tourism.
The report said: "Evidence from the case studies outlined in this report indicates that reintroduced species and humans can co-exist without conflict.
"However, this success is only possible if potential problems which might arise from the reintroduction are identified in advance thereby allowing for appropriate management strategies to be put in place."
Crofters on Scotland's west coast have complained in recent years about sea eagles taking young lambs.
However, the report said deviating from EU law was unlikely and the researchers recommended close monitoring of the birds' behaviour.
They added: "Alternative strategies to address impacts on livestock farming and on forestry should be explored in the first instance and might include compensation for loss of livestock, support for changes to lambing practices and the agreement of exclusion zones around nest sites."
With beavers, the researchers said a formal reintroduction could lead to numbers of the animals growing over a wide geographical area.
They said "problematic individuals" could be relocated to other territories, but as the availability of these territories lessened killing some beavers may be necessary, the report said.
The researchers said killing as a means of controlling numbers without harming the health of populations was done in Bavaria, in Germany, without being challenged by EU law.
The research project was led by Dr Aylwin Pillai, co-director of the University of Aberdeen Rural Law Research Group.
Dr Pillai said: "This was a fascinating and important research project given the potential for human-species conflicts or challenges in European protected species reintroductions.
"It's a matter of particular interest in Scotland due to the relatively recent reintroduction of the sea eagle and the ongoing trial reintroduction of the Eurasian beaver."