Seabed particle recovery off Dounreay wound up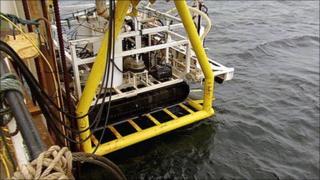 Work to clean up the seabed near the Dounreay nuclear power plant on the Caithness coast has been completed for the third summer in a row.
Tiny radioactive fragments were discharged from Dounreay into the sea in the 1970s.
A remotely-operated vehicle is used to recover the harmful particles.
This summer 299 particles were collected. Fourteen fragments were considered to pose a "significant" health risk to humans.
Since the clean up started, 2,184 particles have been recovered with 409 classed as "significant".