Edinburgh spy maps help reveal Scotland's lost gardens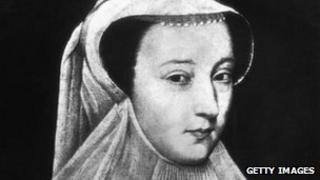 Maps drawn by spies in the 16th Century have helped to reveal the original design and also tell the history of forgotten and abandoned gardens.
New book Scotland's Lost Gardens, covers the period from Early Christian times to the end of the reign of Queen Anne in 1714.
Author Marilyn Brown has drawn on archive material, including spy maps of Edinburgh from the 1500s.
Gardens near Selkirk, on Canna and Aberdeen also feature.
Published by Royal Commission on the Ancient and Historical Monuments of Scotland (RCAHMS), the book starts with the 6th Century monastic gardens of St Columba on Iona.
It goes on to include palace gardens of James IV and James V, royal refuges of Mary Queen of Scots and the garden below Stirling Castle.
Modern aerial photography, medieval charters and even renaissance poetry are used in the book to reveal the design and scale of the gardens.
The spy maps were drawn for Henry VIII during a period of time known as the Rough Wooing.
It saw the King of England attempt to secure a marriage between Mary Queen of Scots and his own infant son, Edward.
Fearing an English takeover, Scottish nobles resisted and Henry invaded Scotland in his search for Mary, who was sent to France for her safety.
Scotland's Lost Gardens will be released mid-September.