Scottish wildcat project efforts continue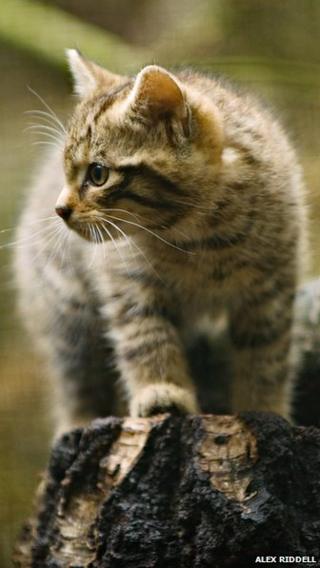 Many of the actions adopted by a recently completed three year project to better protect rare Scottish wildcats are to continue.
One will be for volunteers from the charity Cats Protection to carry on neutering feral cats found in the Cairngorms National Park.
Inter-breeding with domestic cats is among the threats to numbers of pure-bred wildcats.
The Cairngorms Wildcat Project finished in March this year.
A report to the national park's board, which is meeting later in Grantown-on-Spey, said the scheme had dramatically increased public understanding of the plight of the Scottish wildcat.
It has been estimated that 150 breeding pairs of wildcats survive in parts of the Highlands.
Disease, loss of habitat and inter-breeding with domestic cats have been blamed for devastating wild populations.
The Royal Zoological Society of Scotland, which has captive wildcats at its Highland Wildlife Park and was involved in the Cairngorms project, has suggested cloning as way to boost numbers.
The new report gives details on where the animals had been photographed using camera traps, or found dead on roads.
The document said: "The findings suggest wildcats are very rare, but are present in low numbers in the western half of the national park - Badenoch and Strathspey, Highland Perthshire and possibly Glenlivet.
"No records substantiated with photos or carcases were obtained from the eastern side of the park - Deeside, Donside and the Angus Glens.
"Camera trap images and recovered cat carcasses indicate that feral cats and hybrids are more numerous and widespread and occupy the same areas as wildcats, hence the risks from hybridisation appear to be real and continuing."
The project received funding from Scottish Natural Heritage.