War-time convoy from Scotland to Russia to be remembered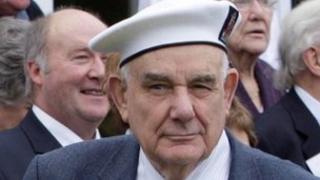 A commemorative event is to be held to mark the day a convoy and its escort of warships left a Scottish loch for Russia 70 years ago.
Code named PQ18, the mission from Loch Ewe, in Wester Ross, on 2 September 1942 was the first Russian Arctic convoy since the disastrous PQ17.
In July 1942, more than 20 vessels were sunk by German aircraft and U-boats.
PQ18 was provided with a much heavier escort, which included 17 warships, for its journey to Iceland then Russia.
The Russian Arctic Convoy Museum Project group has organised the commemoration, which will take place on Sunday at Loch Ewe.
Veterans planning to attend include Reay Clarke, from Tain in Ross-shire.
In 1942, he was a young sailor serving on the Royal Navy destroyer, HMS Farndale.
Other veterans will be travelling from Edinburgh and England to Loch Ewe to mark the anniversary.
Loch Ewe was a gathering point during the war for Allied cargo vessels delivering supplies to Russia.
PQ18 was made up of 39 cargo vessels carrying 4,400 vehicles, 835 tanks, 566 aircraft and more than 11,000 tons of high explosive.
The ships also delivered more than 157,000 tons of general cargo and 9,541 tons of fuel oil.
The Russian Arctic Convoy Museum Project group has already organised other events recalling Loch Ewe's role in the convoys.