Residents of Canna complain about lack of public phone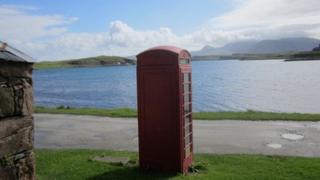 Residents on Canna are complaining that a phone box which is regarded by islanders as a lifeline service is out of action.
BT said the payphone on the small isle off Skye, which has no mobile coverage, was in working order.
However, members of the island's small population have reported that the telephone had been stripped out.
Islanders and local coastguards have raised concerns that the public phone is out of service.
The phone, the only public one available on Canna, is seen as important in case crews of visiting yachts, and other visitors, wish to make calls in an emergency.
In the past, the box was said to have been used by a rich American yachtsman to make enquiries about his order of a Jumbo jet.
BT said it had no reports of any faults, but was sending an engineer to the Hebridean island to investigate residents' complaints.
The company said: "We have not disconnected the Canna payphone and we were not aware of any problems with it.
"We will raise a fault against it and arrange for an engineer to visit the island and check it out.
"Payphones on the Scottish islands have always been exempt from BT's payphone removal programmes."