Lancaster University compiling best Aurora Borealis sites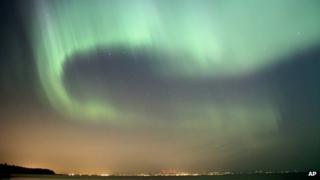 Space physicists are putting together a list of the best places in the UK where people could photograph the Aurora Borealis.
Lancaster University's AuroraWatch team has sought information on where shots of the Northern Lights could be framed in interesting landscapes.
Space scientist Dr Jim Wild said the plan was to eventually create a map to help guide people to the locations.
He said now was a good time for people to see the aurora.
Dr Wild said: "To see the aurora from the UK you really need the sun to be quite active and that comes in waves and cycles with about an 11 year period to it.
"At the moment we are about at the maximum of solar activity for this decade, or so.
"So the sun is doing its bit. We just need things to be right in space to create the aurora and have clear skies. Sometimes that can be a bit challenging.
AuoraWatch was set up about 10 years ago.
The project draws on data gathered by scientific instruments in Iceland, Greenland, Russia and northern Scandinavia studying variations in the earth's magnetic field.
Followers of the AuroraWatch Facebook and Twitter accounts receive real-time alerts to when conditions in space are likely to result in the Northern Lights.
The scheme's scientists thought it would be a good idea to not only give a heads up to when conditions were right, but to also point people in the direction of the best places to see the displays.
Dr Wild said: "Already we have had suggestions of regions and also specific car parks in remote country locations, harbour walls, village pubs and cafes."
People who wish to add suggestions can post them on the AuroraWatch Facebook page.
Earlier this year, the chances of seeing the aurora over Scotland were heightened when the earth was battered by a storm of charged particles from the sun.
The storm - the largest in five years - bombarded the earth's magnetic field.
In January, the Northern Lights were observed across Scotland, including over Shetland, Western Isles, Aberdeenshire, down to the Scottish Borders.
Aberdeen's associations with the Aurora Borealis are celebrated in the local song, The Northern Lights of Old Aberdeen
In the past, the city's tourist information staff have been asked when the "lights were turned on" by visitors unclear what causes the displays.