New York firm distributes Scottish chiller Graders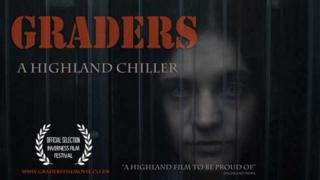 A chiller shot in Scotland on a budget of £4,000 has secured a distributor in North America.
Graders tells of a woman's search for her sister who has gone missing while working in a fish factory in the remote Scottish Highlands.
Scenes for the film were shot in Assynt, Buckie and Edinburgh.
Edinburgh-based Director David Hutchison said his script was influenced by the murders of two Eastern European women in Scotland.
New York company Striped Entertainment will distribute the film in the US.
Graders has already been shown at events in Inverness and Edinburgh.
The cast includes Janet de Vigne, from Edinburgh, who appeared in the Oscar-winning film Slumdog Millionaire.
Also featuring are Polish actresses Joanna Kaczynska - who appeared in Peter Mullan's film Neds - and Agnieszka Bresler, who play sisters Ania and Celina.
A song in the film's score was sung by Gaelic Mod gold medallist Eilidh MacKenzie, who was brought up on Lewis in the Western Isles.
In an interview last year, Mr Hutchison said he recalled the murders of Lithuanian Jolanta Bledaite and Angelika Kluk, from Poland, while writing the screenplay.
He said Graders was not about the two women's murders, however, their families' trauma over the deaths was among the influences in the writing of it.
Miss Bledaite was murdered in Brechin, in Angus. Her head was found by two young sisters playing on a beach at Arbroath in April 2008.
The 35-year-old was murdered by two men, also from Lithuania.
Miss Kluk, 23, was murdered in Glasgow in 2006 by serial killer Peter Tobin.