British Geological Survey making 3D model of Inverness's geology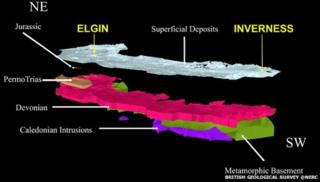 A 3D model of a Scottish city's geology could help planners to make decisions on how it grows in the future.
British Geological Survey (BGS) is creating the computer generated image of rocks and soils beneath Inverness.
A similar project that examined the ground around Forres in Moray influenced the planning of flood alleviation schemes, BGS said.
BGS said Inverness has a complex geology because of excavations and deposits related to house building.
The organisation has been developing 3D models of the Moray coast since 2007 to help visualise soil and rock formations from the surface down to the bedrock.
One of the aims of the work is to give a better understanding of the role of groundwater during floods.
A spokesman said: "These models will enable planning authorities and regulators to address land-use issues associated with rapidly increasing urban development, particularly around Inverness.
"One of the most significant issues is the potential for river flooding.
"This prompted the construction of the first bespoke linked field survey and 3D geological framework model in Scotland, for the ground around the town of Forres.
"Targeted field investigations by a team of geologists, hydrogeologists and engineering geologists enabled a complex 3D geological model to be produced."
Last year, the methods used to create the Forres model started to be applied to Inverness.
Marine geologists have been carrying out investigations of the ground below the shallow waters of the nearby Moray and Beauly firths as part of the survey work.
Millions of pounds has been spent on protecting Inverness and other towns from the risk of flooding.
Highland Council's River Ness Flood Alleviation Scheme aims to shield thousands of properties.
In Moray, the Forres Pilmuir flood alleviation scheme is being constructed at a cost of £44m.
It is the fifth and final in a series of flood alleviation schemes to be constructed in the region.
The first of the schemes, at Lhanbryde, was completed about four years ago.
It was followed by the Burn of Mosset scheme at Forres and a project at Rothes.
The largest of the five schemes is under construction in Elgin at a cost of £86m.
Due to be completed by spring 2015, Moray Council said it was the biggest single flood alleviation scheme ever undertaken in Scotland.