Atheist Richard Dawkins invited to Stornoway book festival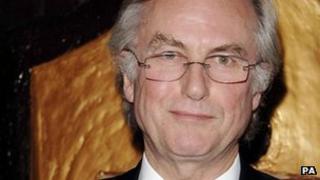 Some church groups have expressed disappointment at the decision to invite leading atheist Richard Dawkins to speak at an island book festival.
Prof Dawkins is due to attend the belief themed Faclan Hebridean Book Festival in Stornoway in November.
Christianity is still a central part of island life on Lewis, with most of the island's services, shops and businesses closed on a Sunday.
The Lord's Day Observance Society said it was amazed by the invitation.
President of the group, John Roberts, said: "He has got a name for himself and being invited to a place like the Western Isles, which is a stronghold Presbyterian area, I just find it amazing he should be invited to a place like that.
"He has a personality that has reached certain heights but it just shows how gullible people are when so much of what he says can be torn to pieces.
Local sensitivities
"I wouldn't cross the road to hear what he has to say."
He added: "I'm not saying don't attend the event, people have to make their own decision on that."
Pastor Donnie Stewart, of the New Wine Church at Stornoway, added: "It is disappointing that he has been invited given the Christian heritage and local sensitivities here.
"But we will keep praying that Prof Dawkins receives the personal revelation of the Holy Spirit."
A spokeswoman for Prof Dawkins said: "The very fact they are making such a fuss about a talk which no-one will be forced to attend betrays their panic at the mere idea of their beliefs not being considered sacrosanct by all."
Sincere views
Faclan Hebridean Book Festival organisers said they were not worried about the reception Dawkins would get.
Director Roddy Murray said: "Professor Dawkins was asked because he is one of the world's most eminent and influential scientists and has trenchant and sincerely held views on this.
"His beliefs happen to be in reason, logic and evidence and it is appropriate that such views be given a platform within the terms of the festival.
"I am not worried about the reception he will receive in Lewis. People here are unfailingly courteous and tolerant."