Western Isles get first community wind turbine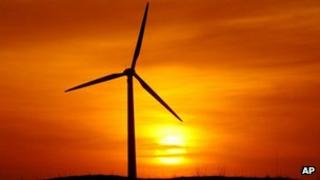 The first community-owned wind turbine project on the Western Isles has taken a step forward with the installation of a 900KW device.
The Horshader Community Development will benefit South Shawbost, Dalmore and Dalbeg on the west side of Lewis.
The project secured more than £1.8m from the Co-op Bank and grants from Community Energy Scotland, Big Lottery, local council and Scottish government.
The turbine arrived by ship in sections at Stornoway last week.
Kathleen MacDonald, Community Energy Scotland's officer based in Stornoway, said: "The Horshader project has overcome many a hurdle to get to this stage and is something the group should be extremely proud of."
Angela Macleod, of Horshader Community Development, added: "It is all systems go now.
"The site has one of the best possible wind resources in the UK and will help fund our community needs to improve life here for the next generation and hopefully reduce depopulation."