Lochaber-based Dave MacLeod ascends new climb on Raasay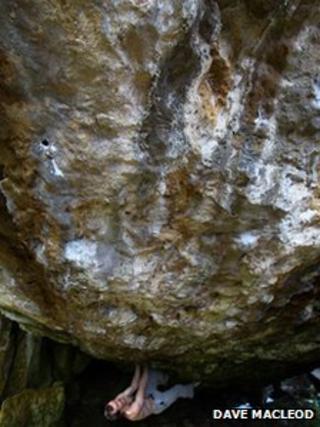 A new climb has been struck in one of Scotland's oldest landscapes.
Lochaber-based professional climber Dave MacLeod took several attempts to complete the overhang, or roof, in Raasay's ancient sandstone cliffs.
With fellow climber Michael Tweedley, Mr MacLeod spotted the potential line earlier this month.
However, he had to put off the attempt to climb it or miss the ferry off Raasay. He returned the following week and climbed the line on his fifth go.
Mr MacLeod has previously made the first free climb of Longhope Direct on St John's Head, on Orkney. The cliff rises to more than 343m (1,128ft).
With fellow climber Tim Emmett, he completed another of the UK's hardest rock climbs in August 2010.
The pair struck a new route up the Sron Ulladale cliff face on Harris live on television.
Mr MacLeod graded the new line on Raasay harder than his and Mr Tweedley's initial estimate.
The pair had spent a long time on their first trip to find a line not previously climbed on Raasay's soft sandstone.
Mr MacLeod said: "Doing a new climb here is something special. It's not the same as a good session at your local crag, or down the wall. For me it's an order of magnitude different.
"It's an experience that really does inspire and last.
"The distance to go there, and the risk of wasting a day or two in the rain is nothing compared to what you have to gain if you get to walk this coastline past Screapadal and the sandstone towers and find amazing lines hidden between a jungle of rocks, some unclimbably soft, some perfect."
According to geologists , Raasay along with Skye and Rum have some Scotland's oldest rocks.
Layers of red Torridonian sandstones were laid down in ancient river systems about 1,000 million years ago.
Sedimentary rocks on Raasay also represent geology of the Mesozoic, Triassic, Jurassic and Cretaceous.