'No new' SSE hydro power stations after subsidy cut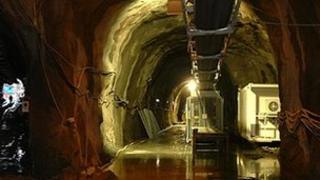 The main operator of Scottish hydro power stations said it does not expect to build new ones due to a subsidy cut.
SSE, which trades north of the border as Scottish Hydro, had planned several new hydro schemes in the Highlands.
It also warned changes to Whitehall's support regime for renewable power could significantly harm biomass burning and wind farm development.
RWE/nPower, which has hydro power development plans as well, also issued a warning.
It argued the level of support for hydro was "not enough and will have a very serious impact upon future projects of 5 megawatts and above".
The news comes after the government announced a 30% reduction in the Renewable Obligation Certificates companies receive per unit of energy produced.
That has been awarded at the same rate as onshore wind farms, and after a Whitehall battle, they are also facing a cut of 10%.
The Department of Energy and Climate Change (DECC) announced the reductions on Wednesday, which were less than had been expected for wind farms, but on condition that could be reviewed again soon.
'New uncertainty'
Although the DECC statement only applies south of the Border, industry experts believe there is little flexibility for the Scottish government to offer more generous subsidies without hitting Scottish customer bills disproportionately.
Scottish Renewables, representing the industry, warned on Wednesday the DECC announcement could lead to cutbacks in investment on hydro, and challenged the Scottish government to increase support from Whitehall's levels.
SSE said the new regime will not affect existing plants or those under construction.
"Nevertheless, it means SSE no longer expects to develop any new conventional hydro electric schemes and the scope to increase generation of electricity from biomass at coal-fired power stations is significantly reduced," the firm said.
The statement went on to say the review of onshore wind farm subsidies for projects after March 2014 "introduced a new uncertainty that could potentially restrict the future development of this technology".
Pump storage
Scottish Hydro/SSE has four projects in development, two of which are too small to qualify for ROC payments.
One that does qualify is on the Kildermorie Estate near Alness in Easter Ross. It was to have a capacity of 7.5MW.
That project had reached the stage where it was ready for construction to start.
The other scheme being stopped is at Glenisla near Alyth on the Perthshire-Angus border. It is rated at 10MW, and planning was much less advanced.
Two much larger SSE projects are for pump storage - pumping water uphill using excess power from other sources when demand is low, and then releasing the water when demand surges.
They are both rated at 600MW, and a smaller such development is being planned for an expansion of the existing Sloy station near Loch Lomond.
But as they are not conventional hydro stations, they do not currently get any subsidy. SSE has not put these pump storage projects on hold.