Work starts on Easter Ross's Nigg cross-slab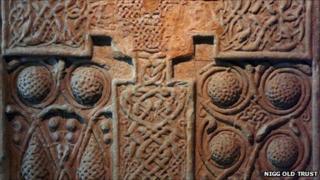 Conservation work has started on an intricately carved Pictish stone from Easter Ross.
The Nigg cross-slab dates from the 8th Century AD and features snakes and a depiction of monks receiving bread from a raven sent by God.
Nigg Old Trust received grants towards the £170,000 restoration project.
The monument has been taken to a workshop in Edinburgh and will eventually be put back on display at 16th Century Nigg Old Church.
The cross-slab is one of Scotland's greatest art treasures, according to the trust.
The stone's entry in the Highland Historic Environment database described it as being intricately carved.
The entry said: "The style echoes that of the the sculptured crosses on Iona, the Book of Kells, and illustrated manuscripts of Lindisfarne in Northumbria and Durrow in Ireland.
"It seems always to have stood in the churchyard at Nigg."
In 1727 the stone was blown down in a storm but re-erected against the east gable of the church, according to the database.
In later years it was broken while being moved to give access to a burial vault and re-erected upside down. Eventually it was moved inside the church.
A broken piece of the cross-slab was found in a nearby burn in 1998.
Trust vice chairman Alan Whiteford said: "For too long this important part of Highland Pictish heritage has been displayed in conditions unworthy of its importance.
"This project will bring a new lustre to the monument's display and will give our visitors a far more rewarding experience when they come to Nigg Old Church."