Scottish government to consider Skye flights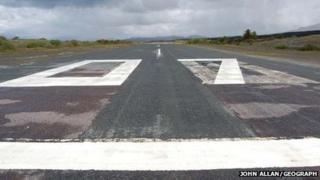 The Scottish government has said it will seriously consider calls for the resumption of air services to and from Skye.
At a question and answer session in Portree, Infrastructure Secretary Alex Neil said a feasibility study was already under way.
Transport body Hitrans is leading the study.
Mr Neil said a demand for flights would have to exist before the government could offer financial assistance.
Loganair flew out of the island's Ashaig Airfield until 1988.
The strip was built in the 1970s by Army engineers, and appears briefly in a scene from the 1980 film Flash Gordon, which starred Sam J Jones, Max von Sydow, Timothy Dalton and Brian Blessed.
Though commercial flights ended in 1988, the strip continued to be available for use by the emergency services and the military.
NHS Highland and the ambulance service use it for flying Broadford Hospital patients to larger hospitals in Inverness and Glasgow.
Hitrans, which works to promote and protect transport links, is working towards updating a previous report on the cost and demand for air travel to and from Skye.