Runnerman latest short film to emerge from Highlands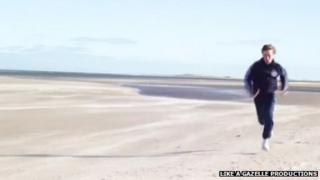 A comedy about a runner who smokes and eats fry ups being picked to compete at the Olympics is the latest independent film to emerge from the Highlands.
Runnerman: The Ballad of Jackie Reid is Inverness-based Like A Gazelle Productions' second short film.
The company's Gary Crombie and Rory Hutcheson hope to attract funding to produce the new film on a bigger scale.
Other independent films to be made in the Highlands include chillers Graders and Brocken Spectre.
Runnerman features scenes shot in the seaside town of Nairn, near Inverness.
It follows the story of Jackie Reid who, despite some unhealthy habits and no interest in warming up in preparation for long distance runs, secures a place in Team GB's squad for the 10,000m at London 2012.
'Wonderful characters'
The short, which includes some bad language, is Like A Gazelle's second production.
Mr Crombie said: "In 2010 we made a film called The Last Gallivant about a 30-year old man from the Highlands who is dying of cancer.
"He enlists his two estranged best friends on a road trip around the Highlands in a bid to reconnect the two who fell out many years ago."
Mr Crombie added: "At Like A Gazelle, our main goal is to promote the culture, history and heritage of the Highlands and Islands.
"There are so many wonderful characters in this area, with the Highlands itself having such a unique sense of humour and outlook on life, we hope to bring all of these factors to a much wider audience."
Edinburgh-based David Hutchison returned to the Highlands where he grew up to shot scenes for his short film, Graders.
Filmed on a budget of £4,000, it was given its premiere at the Inverness Film Festival last year.
Graders' cast includes actress Janet de Vigne who appeared in the Oscar-winning Slumdog Millionaire.
Ghostly figure
Mr Hutchison said his script was partly influenced by the murders of Lithuanian Jolanta Bledaite and Angelika Kluk, from Poland.
Both the women were murdered in Scotland.
The film tells of a woman's search for her sister who has gone missing while working in a fish factory in the remote Scottish Highlands.
It features a song by Gaelic Mod gold medallist singer Eilidh MacKenzie, who was brought up on Lewis, in the Western Isles.
Brocken Spectre was produced by a Highland film company set up by 19-year-old film-maker Fergus Thom, from Carrbridge.
The film is loosely based on the myth of the Big Grey Man of Ben MacDhui, a ghostly figure said to haunt the Cairngorms.