Community group considers buying Summer Isles Food site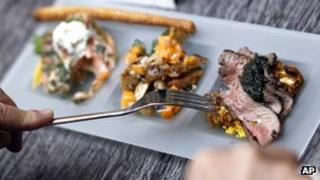 A community group is considering a fresh bid to take over a factory that was used to smoke fish and meat.
The plant at Achiltibuie in Wester Ross is up for sale after the owner, Summer Isles Food, transferred its business almost 80 miles (128km) to Alness.
Coigach Community Development Company proposes using the site to launch its own fine food business using local produce.
It had previously made a bid to bring the plant into community ownership.
Summer Isles Food said in March that it would talk to the community in Achiltibuie about the future of the factory after its relocation caused a row.
People had been upset by the loss of jobs to the area, and that the factory had previously been publicly owned.
Summer Isles Food leased the site from enterprise development agency Highlands and Islands Enterprise (HIE).
HIE agreed to sell the factory to the company in 2010, then later sought to delay the sale after the company said it was ceasing operations at Achiltibuie.
Coigach Community Development Company made a bid for the premises in an effort to place it into community ownership.
However, the missives had been exchanged and it was too late to postpone Summer Isles Foods' purchase.