RAF Kinloss mountain rescue team 'to relocate'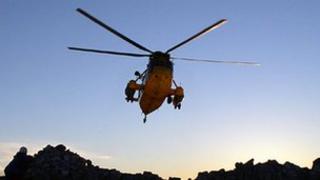 RAF Kinloss Mountain Rescue Team will relocate to neighbouring air base RAF Lossiemouth, BBC Scotland understands.
Set up in the 1940s, the team will formally move when the Army takes over Kinloss from the RAF on 26 July.
The rescue organisation is expected to change its name once it is established in its new home at the other RAF station in Moray.
Kinloss MRT regularly trains and assists in rescues in the Highlands, working with RAF helicopter crews.
Civilian contractors will take over helicopter search and rescue duties from the air force and Royal Navy by 2016.
The Army's 39 Engineer Regiment is moving to Kinloss, converting it from an air station to an Army barracks.
The UK Government made the move after scrapping Kinloss's Nimrod aircraft fleet.