Tornado jet crash: Wreckage located on seabed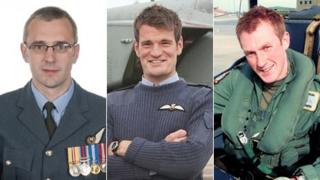 The wrecks of two Tornados that crashed on Tuesday, leading to the loss of three airmen, have been located on the seabed of the Moray Firth.
Survey vessel Ocean Star, which is at the scene with another boat Smit Yare, has taken imagery of the wreckage.
The Ministry of Defence (MoD) said minehunter HMS Cattistock was also being sent to the crash site.
The MoD added that recovery work would not take place until next week once a salvage vessel was on scene.
HMS Cattistock will take further images of the crash site, a spokesman said.
The names of three airmen who died after their Tornados GR4 jets crashed in the Moray Firth were released on Thursday.
Bangor-born Flt Lt Hywel Poole, 28, died in hospital after being airlifted from the scene.
The bodies of Sqn Ldr Samuel Bailey, 36, from Nottingham, and Flt Lt Adam Sanders, 27, who grew up in Lancashire, have still to be recovered.
The sole survivor of the incident, who has not yet been named, is in a serious but stable condition in hospital.
The MoD said it could not give any further details on his condition.
The planes from 15 (Reserve) Sqn at RAF Lossiemouth, in Moray, crashed into the sea south off Wick, in Caithness, during a training flight on Tuesday afternoon.