New play recalls Uist's 'silent weaver' Angus MacPhee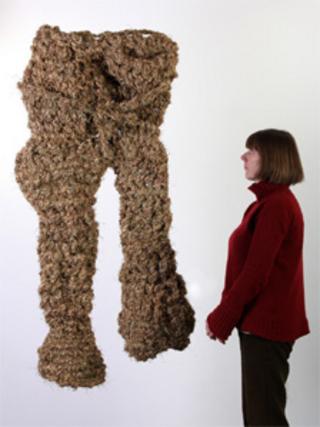 The story of a former soldier who chose not to talk for 50 years and wove intricate items from grass and leaves will be told in a new play.
Angus MacPhee, who died in 1997, took ill while garrisoned on the Faroes and was later a psychiatric patient.
Lancashire-based Horse and Bamboo Theatre will take Angus - Weaver of Grass on tour from next week.
Three years in the making, the play draws on stories about the Uist-born soldier and research material.
Born on South Uist, Mr MacPhee served with the Lovat Scouts during World War II.
First created by Lord Lovat for service in the Second Boer War in 1900, the Scouts fought in both world wars.
During World War II they were posted to the Faroes before seeing action in Italy from 1944 until the end of 1945.
From the Faroes, Mr MacPhee was first sent home to the Western Isles, but his family later sought medical help and he was eventually admitted as a patient at Craig Dunain hospital in Inverness.
According to an article in the British Journal of Psychiatry , the former soldier uttered barely a word for 50 years and made clothing and rope from grass and leaves.
The journal said that each autumn Mr MacPhee would watch as his items were swept up in the hospital's grounds and burned along with fallen leaves.
Some of his work, including a pair of boots and a jacket, survived.
Joyce Laing, an art therapist, discovered his work in 1979 and brought it to wider attention.
Bob Frith, an artistic director at Horse and Bamboo, was inspired by stories about Mr MacPhee while touring with another play in the 1980s.
Work started on the production in 2010.
The play is the latest artistic celebration of the soldier and weaver.
Runrig singer Donnie Munro wrote the song The Weaver of Grass, Roger Hutchinson's book The Silent Weaver was published recently and there also been a documentary and a tapestry.
Mr MacPhee also features in a public artwork forming part of the £60,000 renovation of Inverness's Crown Wall.
Producer Esther Ferry-Kennington said his story fitted perfectly with Horse and Bamboo's work, which largely use music and visuals.