Hebrides and west Highlands warned over water use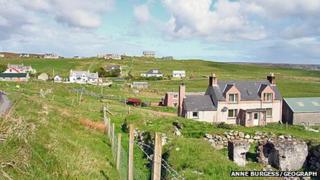 Scottish Water has asked some of its customers to use water supplies "wisely" amid a prolonged dry spell in parts of the Highlands and Islands.
The utilities company said measures were in place to maintain supplies and the situation was not a drought.
It added that supplies could be boosted if necessary by taking in water by tanker, or pumping it in from an alternative source.
Affected areas include the Western Isles and north west Highlands.
Scottish Water said it was giving particular attention to Carbost, Waternish, Broadford and Kyle of Lochalsh in Skye and Lochalsh.
South Uist, Lochmaddy, Stornoway and Tolsta on the Western Isles and Inverasdale and Gairloch in Wester Ross have also been affected.
Other parts of Scotland have been contending with heavy downpours, which have led to floods and landslides badly affecting travel.
Scottish Water said the Met Office had advised that, as of 24 June, just 27.8mm of rain had fallen in the Ross and Cromarty area since the start of the month.
The normal average rainfall in this area for the whole of June is 96.7mm.
On the Western Isles, 14.5mm of rain had fallen up until 24 June. Usually the islands can expect 78.4mm.
Peter Farrer, Scottish Water's customer service delivery director, said there was no reason for alarm.
He said the company was able to offer advice on how customers could reduce their water usage.
Mr Farrer said: "Less rainfall than normal has fallen in parts of the north west Highlands and some islands in recent weeks.
"This means that some water sources in the area currently have lower than normal water levels.
"Customers can be assured that Scottish Water as a matter of course continually monitors all water sources to make sure customers have a constant supply of clear, fresh drinking water."