New species of dandelion discovered on St Kilda island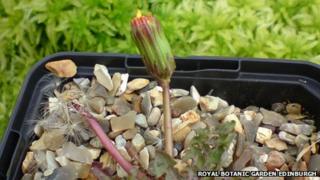 A new species of dandelion has been discovered on a remote Scottish isle.
Botanists from Royal Botanic Garden Edinburgh (RBGE) and Northumberland have been involved in studies of the flower found growing on Hirta.
The island is the largest in the St Kilda archipelago, which was abandoned by its last residents in 1936.
The flower may have originated in Iceland and was carried to Hirta by birds, or the Vikings. It has been named after a retired RBGE employee.
Royal Botanic Garden Edinburgh said the dandelion - named Taraxacum pankhurstianum in honour of Richard Pankhurst - could be one of Scotland's rarest plants.
Sheep and seabirds are believed to eat it.
Seeds from four plants were collected two years ago by Jim McIntosh, a recorder of flora for the Outer Hebrides, during survey work on Hirta.
The seeds were successfully grown at the garden's nursery by horticulturist Natacha Frachon and identified as a new species by Prof James Richards, of Hexham, Northumberland.
St Kilda lies 41 miles (66km) west of the Western Isles.
The last St Kildans abandoned Hirta in August 1930 following years of depopulation and also deaths that occurred during a hard winter in 1929.
Last year, remains of a permanent settlement which could date back to the Iron Age were uncovered on another island in the archipelago.
It was previously thought Boreray was only visited by islanders to hunt seabirds and gather wool from sheep.
Archaeologists and staff from the Royal Commission on the Ancient and Historical Monuments of Scotland (RCAHMS) recorded an extensive agricultural field system and terraces for cultivating crops.
RBGE said the most likely source of the dandelion was Iceland, where it was thought they no longer grow.