Scottish bride and groom 'blackening' ritual explored in UHI course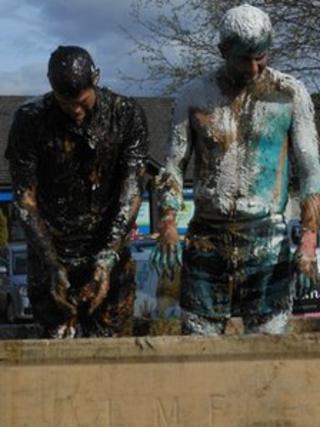 The tradition of "blackening" couples before their wedding day will be explored in a new university course.
The ritual of covering brides and grooms in treacle, soot and flour used to be carried out to ward off evil spirits.
It still happens in parts of Scotland, including the islands, Aberdeenshire, Angus and Fife.
The University of Highlands and Islands course will also look at other customs as well as history, music and religion.
The university hopes publicity around new Disney-Pixar film, Brave , will attract interest in the Highlands and Islands Culture MLitt.
The course leader, Dr Donna Heddle, said it was hoped students from all over the world would study it online and using video conferencing.
She said: "It's an opportunity to study a unique and multi-faceted culture which fascinates whether or not you are one if the 55 million people worldwide who are of Scots descent.
"There is no doubt that the Highlands and Islands has a timeless magic of its own and we're looking forward to sharing that with our students and the wider world."
Meanwhile, Gaelic arts festival, Blas, will explore the theme The Highland Wedding.
Singer Margaret Stewart will examine how Gaelic songs and music reflect flirtation, wooing, love, loss and disappointment.
Blas will be held at venues across the Highlands from 7 to 15 September.