Police drugs warning after RockNess death and illness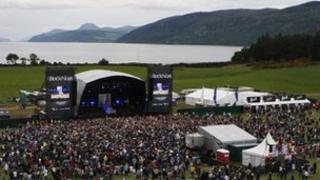 Police have warned revellers at the RockNess festival in the Highlands about the dangers of drugs after the death of a teenager.
Alex Herriot, 19, from Portobello, who is thought to have taken drugs, died after collapsing on Saturday night.
He was taken to Raigmore Hospital but failed to respond to treatment.
Northern Constabulary said two other people, a 19-year-old woman and a 20-year-old man, were also being treated after taking so-called "legal highs".
A police spokesman said of the man's death: "Early indications are that the man may have consumed drugs and this is one of the lines of inquiry at this stage.
"A post mortem will be carried out to determine the cause of death."
North Constabulary said they, and organisers, have minimised the risk of controlled drugs being consumed at the festival through searches, the use of drugs dogs and amnesty bins.
The force also recently issued a warning from the Scottish Crime and Drug Enforcement Agency about the latest pink ectasy tablet.
Officers were making inquiries into a "legal high" substance known as Benzo Fury, which is believed may have been taken by those who are currently being treated in hospital.
Police warned it can be very dangerous, particularly if consumed with other substances.
Supt Stevie Mackay, the event commander, said: "People may think that 'legal highs' are safe, because they are not classed as a controlled drug, but they are extremely dangerous."
"If anyone has the tablets described or any other drug, whether controlled or a 'legal high', in their possession, they are advised not to take them and to hand these in."
RockNess organiser Jim King warned that "legal highs does not mean safe, and customers should not go anywhere near these dangerous substances".
He added: "Festival-goers should heed the advice given to them by the health professionals and the police, and stay safe by avoiding drugs of any kind."
RockNess draws about 35,000 people over the three days it is held. Headline acts this year include Ed Sheeran, Annie Mac, Deadmau5 and Biffy Clyro.
Police have also named two men killed in a road crash involving a bus taking people to the festival.
A van driver and passenger died in the accident on the A9 at Ralia, south-west of Newtonmore.
Northern Constabulary said the men were Mark McFarlane, 38, and Barry Murray, 28, decorators from the Glasgow area.