Remote sleeper Andy Strangeway wins overnight parking fight in Highlands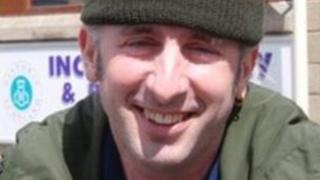 A campaigner has succeeded in having "no overnight parking" signs removed from roads in the Highlands.
Andy Strangeway from East Yorkshire, a regular visitor to the Highlands and Islands, started lobbying for their removal last year.
The adventurer, who sleeps in remote sites, argued that drivers should be allowed to pull over and rest in roadside lay-bys.
Transport Scotland said the signs dated from the 1990s and would be removed.
In 2007, Mr Strangeway completed an attempt to sleep on all of Scotland's 162 islands which are 98.8 acres (40 ha) or larger.
Transport Scotland said regulations had changed since the signs were erected.
A spokeswoman said: "The signs concerned pre-date Transport Scotland and, following a review, we have instructed our operating companies to remove them in the coming weeks."
The 50 signs will be removed by 31 August.