Banjos made from Dounreay nuclear plant's wood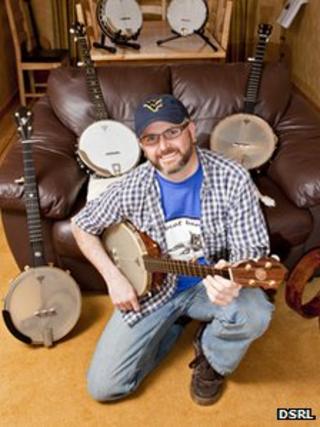 A worker at Dounreay is making banjos using wood salvaged from buildings at the nuclear power plant in Caithness.
Neil Parkin has made four of the musical instruments so far and has started work on a fifth.
Some of the wood has come from hardwood panelling that decorated an entrance porch to D8550, the plant's former education and training centre.
Dounreay, an experimental power site, is in the process of being demolished and cleaned up.
Mr Parkin plans to recycle more wood from D1200, a former administration building.
At the moment he has enough wood for 10 banjos.
Other materials and tools - not contaminated by radioactivity - have been recycled or reused.
Spanners used in the demolition of a nuclear power plant are now helping to refurbish a steam engine.
Made to imperial measurements, the tools loosened nuts and bolts at Dounreay which modern metric equipment could not.
The spanners were to be scrapped as they were no longer needed.
However, they have been donated to Aviemore's Strathspey Steam Railway for use in the renovation of an engine rescued from a scrap yard in Wales.
One of two fire engines specially built and equipped to deal with liquid metal fires at the site was also donated to enthusiasts.