Lewis wind farm plans threaten golden eagles, RSPB says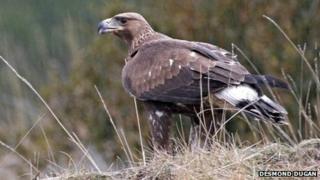 RSPB Scotland has voiced "serious alarm" at moves to expand a proposed 39-turbine wind farm on Lewis.
The charity has always opposed the Eisgein Estate project due to concerns that the turbines may harm golden eagles and sea eagles.
The area has one of the highest densities of golden eagles in Europe.
Planning consent has already been granted for 39 turbines on the site, and there are now plans to seek permission for up to 30 more machines.
International Power GDF Suez acquired the rights to the 39-turbine project from the estate's owner, Nicholas Oppenheim, in April.
Mr Oppenheim's company Uisinis Power has now sought permission from Scottish ministers to start the moves towards an expansion.
International Power GDF Suez could potentially acquire the rights to the extension, if approved.
The company said it could not comment on the RSPB's criticism. Mr Oppenheim could not be contacted for comment.
RSPB Scotland spokesman Stuart Benn said the development could have a devastating effect on birds of prey.
He said: "We are seriously alarmed.
"Although not yet built, consent has already been granted for 39 wind turbines which we strongly opposed. This extension would make things even worse."
Mr Benn added: "We believe the bird survey techniques were inadequate and the results underestimated the importance of the site.
"We are frankly amazed that the developer should want yet more turbines on this site."
The leader of Comhairle nan Eilean Siar (Western Isles Council), Angus Campbell, has criticised the RSPB for campaigning against wind farms in the islands.
He said the RSPB was "no friend of rural communities" as it did not balance its statements with the need for new jobs and development in remote areas.