Concerns over armed trains from Caithness to Cumbria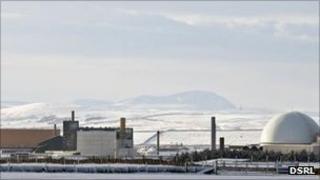 Moving nuclear material from Scotland to England would see trains travelling on a rail line under armed escort from 2012 to 2020, campaigners fear.
The Nuclear Decommissioning Authority (NDA) proposes moving fuel and other radioactive material from Dounreay to Sellafield for treatment.
Nuclear Free Local Authorities said it could lead to up to 110 shipments by rail and has urged for storage on site.
The NDA declined to detail security plans, but said safety would be key.
The authority said spent fuel and nuclear materials had been transported safely over a number of decades from Dounreay on Scotland's far north coast to other sites.
NFLA's concerns are among newly-published responses to the NDA's consultation on its plan to start transporting material classed as "exotics" to Sellafield in 2014 or 2015.
The material - which includes fuel containing highly-enriched uranium - is separate from tonnes of breeder material to be moved by rail from Dounreay to Sellafield later this year.
The NDA's preferred option is to transport the "exotics" by road or rail to Sellafield where there are existing facilities, or ones being built, to handle it.
For the material to stay at Doureay, storage sites will have to be upgraded or replaced within the next 15 years.
The NDA has said that it would take eight to 10 years to design and build the necessary facilities.
Dounreay, an experimental nuclear power site, is being demolished and cleaned up.
Copeland Borough Council, Cumbria County Council, Highland Council, Orkney Islands Council and Shetland Islands Council also responded to the consultation.
NFLA and Shetland Islands Council oppose the moving of nuclear material and want it to be stored at Dounreay.
On security, the NFLA said: "It appears likely that the 30-60 or so transports from Dounreay to Sellafield would need to be accompanied by armed police for security reasons.
"Added to the 50 rail journeys to transport breeder fuel to Sellafield this is going to mean constant armed shipments between now and 2020 travelling the length of Scotland."
The NDA said it had noted the comment, adding: "However, NDA cannot discuss the detailed security arrangements for the transfer of DFR breeder, spent fuels and nuclear materials from Dounreay to Sellafield."
In another response to comments to the consultation, the authority said: "The transport of nuclear material is a tried and tested, safe method which has been in place over a number of decades.
"All movements will be in compliance with UK safety and security regulations."
A decision on the preferred option for the "exotics" is expected later this year, the NDA said.