Killer whales hunting dolphins in Scotland photographed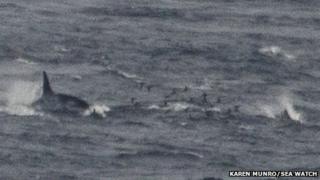 Killer whales have been photographed attacking a pod of white-beaked dolphins in the Pentland Firth off Scotland's north mainland coast.
Whale watchers and a Sea Watch Foundation co-ordinator observed six orcas hunting five dolphins near Duncansby Head in Caithness on Sunday.
At least one of the dolphins was thought to have been caught and killed.
Karen Munro, who regularly reports sightings to Sea Watch, photographed the hunt.
She said: "I personally saw three dolphins breaching right out the water as they were chased."
"Then it all went quiet and six orca fins rose together but did not appear to be moving.
"A minute or two later they all rose together in the same place which made us think they had caught one of the dolphins."
She added: "Finally, in true killer whale fashion, they disappeared with us not knowing which direction they went in."
Sea Watch sightings officer Danielle Gibas said it was extremely rare to witness such a hunt.
She said: "Killer whales are collaborative hunters and many people will have seen them in action in wildlife documentaries filmed in other parts of the world.
"The fact that we can witness such behaviour from the UK coastline is a reminder of how important our coastal waters are for marine mammals."
Orcas and white-beaked dolphin are among six species of whales, dolphins and porpoises that occur regularly in the Pentland Firth and nearby Orkney waters, according to a recent report prepared for Scottish Natural Heritage.
Killer whales frequently seen off Dunnet Head and Duncansby Head in Caithness and off Orkney, are thought to be from a small population of about 30 animals.
This population is believed to be linked to a community of orcas that follow Icelandic summer-spawning herring.