D-Day's 'forgotten' sand samplers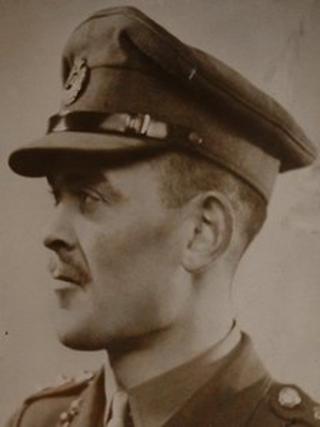 Allied forces stormed the beaches of Normandy 68 years ago today. The amphibious assault followed years of planning that included collecting soil and sand samples from potential landing sites by a select band of men. Their stories remain largely untold.
Donald McColville's peace-time work can be found across north east Scotland.
The engineer, who died in 1978, was involved in the planning and construction of secondary schools in Elgin, Forres and Nairn.
He was also involved in building Glenlatterach Reservoir, which has supplied water to Elgin since 1957, and a refurbish of Royal Naval Air Station Lossiemouth.
But it was a hard fought for legacy.
A Royal Engineer during World War II, Mr McColville returned home from Germany in 1946 seriously ill and spent three years in hospital before lifesaving surgery in London.
Despite the procedure, which took five months to complete and without drugs that would later become available, he continued to have problems breathing but refused to let his health stop him from working.
Born in Yorkshire, Mr McColville grew up in Scotland and Wales.
His father had been a sapper in World War I and after the outbreak of World War II he followed his example by becoming a soldier in an engineering unit.
Posted to Findhorn on the Moray coast, he served as a corporal before being told to undertake officer training.
Mr McColville twice resisted the order, preferring instead to remain in the ranks and the hands on work of building Bailey Bridges at Findhorn Bay.
When he was given no choice but to train as an officer, he excelled in the tests and eventually rose to the rank of major.
Visits to Elgin while based in Findhorn led him to meet local garage owner's daughter, Margaret McIntosh.
Love blossomed and they were married in Elgin in 1943.
Mrs McColville served as an Army driver in London, Aberdeen and Glasgow, drawing on years of experience of being behind the wheel having driven cars since she was 14.
Now 89 and living in Nairn, near Inverness, she has clear memories of life on the home front and after the war.
However, much of her husband's war-time work remains a mystery.
It was years after the war before Mrs McColville learned of her husband's work collecting soil samples from beaches along the French coast.
He spoke of having to make his way to shore from a boat unaided and having never previously swam.
Evidence of expeditions to Normandy were carefully covered up, but left at Pas-de-Calais to trick the Germans.
Mrs McColville said: "I can't really remember how it came out that he had gone over the Channel to collect samples of sand.
"Even when he did mention it he did not say much about it. But I imagine it would have been very dangerous work."
Mrs McColville added: "You couldn't talk about these things during the war - it was very hush, hush. After the war the men did not talk much about what had happened.
"Also, you were caught up with other things, raising a family and working."
For Mrs McColville, the focus after the war was her family and working as school secretary.
She was also organiser for a hospital car service. With 22 volunteer drivers from Speyside to the Moray coast, it complemented the ambulance service by taking patients to hospitals in Inverness and Aberdeen.
Mr McColville needed two years to recuperate from his operation. Doctors told him he would never work again and he faced a future of sitting at home on a pension of just £21 a month.
His wife said: "Thanks to sympathetic employers he was able to return to work. Donald had always been determined to do so.
"The doctors told him that he would never work again and to go home and live the life of a retired gent."
Andrew Whitmarsh, development officer at the D-Day Museum in Portsmouth, said the operations carried out by men such as Donald were among the less well-known elements of the D-Day preparations.
He said: "The planning for D-Day was extensive and the gathering of information started years before the landings.
"It included an appeal put out on the BBC for people to send in holiday postcards and photographs of the French coast, so the Allied commanders could find exits off the beaches.
"The Allies also needed to know the consistency of the beaches. It was important that they checked that the sand could take the weight of tanks and other vehicles.
"The troops had to get off the beaches as quickly as possible and could not become bogged down and stall the landings."
Several beaches were targeted by the samplers, both in an effort to find suitable sites and also to confuse German commanders about where landings might happen.
Mr Whitmarsh said: "They would approach the shore in small boats with silenced engines, before swimming or going in a canoe over the final distance.
"To take the samples they would turn an auger screw into the beach and put sand into pots, and then head back to England."
He added: "It was dangerous. Hitler had executed the commando order several years earlier.
"It meant men captured working alone were treated as spies and executed and not taken prisoner."
Mrs McColville believes her husband took the risks in his stride.
She said: "Donald loved being a soldier. I think there were few times when he was happier."