Favourite Scots film picked ahead of Hollywood blockbusters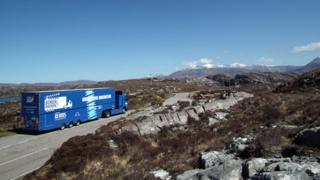 With the Highland landscape influencing - and appearing in - several of this summer's blockbusters, BBC online asked Scots festival organisers, a film-maker and cinema operator for their favourite features set in Scotland.
There can be few summers when so many big budget movies will include scenes shot in the Highlands, or the region's landscape and history has inspired their writers and directors.
From next month through to August, the films Prometheus, The Dark Knight Rises and Brave will be released in cinemas.
Later in the year there will be screenings of new James Bond, Skyfall, and also sci-fi horror Under the Skin.
For Helen Graham, co-ordinator of Kingussie's Food on Film festival, one of her favourite Scottish films is 2003's American Cousins.
It sees American gangsters seeking sanctuary at a Glasgow cafe owned by their Scottish/Italian cousin.
Another of Helen's favourites is 1983's Local Hero.
With scenes shot at a red phone box in Pennan, in Aberdeenshire, and directed by Bill Forsyth, it tells of a US oil company's bid to buy a village where they want to build a refinery.
Helen said: "One of my favourite Scottish films has to be American Cousins directed by Cromarty's Don Coutts.
"We screened this film at our first Food on Film festival in 2008 and Don was kind enough to come and talk to us about the making of it.
"The film blends subtle humour with an unlikely romance while telling a great story in an original and quirky way.
"In many ways it reminds me of my all time favourite Scottish film which has to be the wonderful Local Hero."
Writer and film-maker David Hutchison is a huge fan of 1973 horror The Wicker Man, which stars Britt Ekland, Christopher Lee and Edward Woodward.
It influenced David's writing of one of the characters for his micro budget film Graders, which was shot in Assynt, Buckie and Edinburgh.
He said: "The premise of The Wicker Man is a devout Christian policeman searching for a missing girl on the remote pagan island of Summerisle.
"I grew up opposite the Summer Isles and although The Wicker Man was actually filmed in Dumfries and Galloway, the Summer Isles always hold a fascination for me.
"One of them - Gruinard - was used during World War II to test anthrax. How can somewhere so beautiful be so deadly?"
David added: "The film continues to inspire although the American remake was pretty awful - although adding killer bees and Lady Summerisle was a nice touch.
"The sequel The Wicker Tree came out last year and also a comedy play An Appointment with the Wicker Man.
"PC MacLeod in my film Graders is a homage to The Wicker Man's Sergeant Howie and I was also keen to have extensive folk music in my soundtrack."
David is giving a free screening of Graders followed by a question and answer session at the Banshee Labyrinth, in Edinburgh, on 24 May.
Ran aground
Iain MacColl has been an operator of the Screen Machine mobile cinema for 14 years.
Among his favourites are Whisky Galore and The Maggie.
Released in 1949, Whisky Galore was adapted from a book by Compton MacKenzie, who was inspired by the grounding of a cargo ship carrying more than 250,000 bottles of whisky.
The SS Politician got into difficulty off the island of Eriskay, near Barra, on 5 February 1941.
The ship was headed for Jamaica when it ran aground on the northern side of the island in bad weather.
The Maggie from 1954 tells of an American businessman in Scotland who is conned into transporting a valuable load of cargo to an island using a coal powered boat.
Iain said: "My all-time favourite has to be Local Hero followed closely by Whisky Galore.
"I've had the pleasure of screening The Maggie in Bowmore on Islay and also Whisky Galore on Barra.
"Another highlight for me was screening the Peter Watkins documentary film, Culloden, on the battlefield at the exact time the battle started.
"As far as I know this had not been done before and it fair made the hairs on the back of my neck stand up."
'Dry humour'
Whisky Galore will be screened in Drumnadrochit's Craigmonie Centre during the Loch Ness Film Festival, which runs from 25-27 May.
The festival's Andrew Doig said 1981 film Gregory's Girl, starring John Gordon Sinclair and Dee Hepburn, made an impression on him.
He said: "My favourite Scottish film is a hard one to pick.
"I will go for the time I was around the age of 15-17 and watching Scottish films being released in the cinema such as Braveheart, Trainspotting, Rob Roy, but will go for Gregory's Girl.
"This is a film I came across from receiving it from a free gift inside a Sunday newspaper and found Gregory's Girl to be a unique film written and directed by the underrated Bill Forsyth.
"It's not often Scotland makes a coming of age movie or one set in Cumbernauld, but it has a charm and dry humour to it.
"It's a pity we don't make more of these films or have another Bill Forsyth coming through the ranks of film-making."
Paul Taylor, cinema programmer at Eden Court in Inverness, said he changes his mind each week about his favourite.
He said: "I don't think that I have a favourite film per se, but a favourite director and his works collectively; Bill Douglas.
"His autobiographical trilogy - My Childhood, My Ain Folk and My Way Home along with his feature Comrades showed the work of Scotland's finest auteur film-maker.
"The films are made with such power and passion that it's impossible not to be completely caught up in the strength of these films.
"He may not have been prolific, the same can be said of Scotland's other great director Bill Forsyth, but his body of work proves that he is worthy of being placed alongside the likes of Bergman, Antonioni, Fassbender and Fellini as one of Europe's greats."
Paul, who is also an organiser of the Inverness Film Festival, added: "I've always been mesmerised by the spectacular short documentaries filmed on St Kilda.
"The shots of the men climbing down vast cliffs, while holding onto ropes being hauled by people on top, to get at the birds eggs below are the images from Scottish cinema history that live longest in my mind.
"You certainly couldn't get away with that on a film set today."