Wind turbines turned off at Highland schools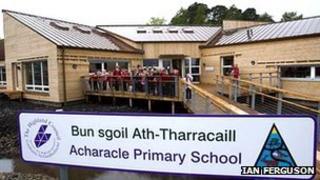 Wind turbines at 16 schools in the Highlands have been turned off amid concerns about the planning and installation of the devices.
Highland Council commissioned checks of where turbines were sited after worries were raised by councillors and members of the public.
The local authority said the operation of the turbines would be suspended until risks were fully assessed.
Three secondary schools and 13 primaries are involved.
The local authority said the turbines were important to reducing carbon emissions and that it planned to continue the roll out of the devices.
A spokeswoman said the suspension was ordered not because of any concerns about the equipment, but because of questions about the planning process and where they were located.
The risk assessment will look at issues such as whether turbines have been positioned in the best place and adequately fenced off.
The turbines are sited at Culloden, Dornoch and Gairloch academies.
The primary schools involved are: Bower, Crossroads, Castletown, Pultneytown, North, South, Scoraig, Inver, Rosehall, Stoer, Acharacle, Holm and Eigg.
'Some concern'
Highland Council said operation of the turbines had been suspended temporarily following an evaluation by Building Research Establishment (BRE) of devices on, or near, school sites.
Steve Barron, director of housing and property, said: "There has been a great deal of interest and some concern about the planning and installation of wind turbines on school sites.
"Following representations from elected members and the public, the council commenced a review of the risk assessment process and the installations of wind turbines at council schools."
He added: "Based on initial feedback from BRE and taking account of the council's own enhanced risk assessment tool, the decision has been taken to suspend operation of the turbines which are sited in or adjacent to school sites.
"This is a precautionary measure which will allow time for proper consideration of the findings of the BRE reports when we receive them over the next few weeks."
Mr Barron said "additional measures" would be introduced at the sites if they were deemed necessary.