Part from scrapped World War II ship 'used in Dounreay lab'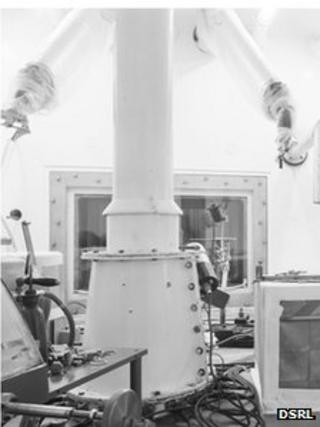 Part of a scrapped World War II battleship's gun turret is thought to have been cannibalised for use in a laboratory at a nuclear power plant.
A former worker at Dounreay in Caithness has told staff that it was his understanding a turntable from HMS Howe was installed in Lab 33.
It allowed a machine with remotely-controlled arms to swivel around in a cell of the lab, which opened in 1960.
HMS Howe saw action in the North Atlantic, Mediterranean and Pacific.
It was one of the last battleships to be built on the Clyde and was scrapped in 1958.
Lab 33 was used from 1960 to 1993 for analysis of radioactive material from Dounreay's three nuclear reactors.
The laboratory, along with the turntable, is about to be cleaned up and pulled down as part of a wider project to decommission Dounreay.
Stuart Tod, who operated Lab 33 from 1982 until it closed, has told staff preparing for its demolition that he believed the turntable was from the battleship.
A drawing exists of how it was wired up in Lab 33, but nothing has been found of the turntable's construction.
Staff from Dounreay Site Restoration Limited believe this provides further evidence that it came from the ship and was not built from scratch.
HMS Howe, a King George V class warship , acted as an escort for merchant vessels on the Russian Arctic Convoys.
It also played roles in the invasions of Sicily and Okinawa.