The Dark Knight Rises: Glimpses of Highlands in Batman trailer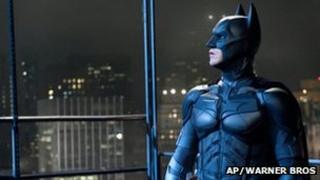 Scenes shot in the Highlands for Batman film The Dark Knight Rises appear in a new trailer for the movie.
A transport plane, which flew out of Inverness Airport during filming last year, is fleetingly seen flying over the Highlands in the trailer .
The production generated £1.1m for the local economy, according to a Highland Council report published last month.
Starring Christian Bale, Anne Hathaway and Tom Hardy, the feature is due to be released in cinemas in July.
The C130 transport aircraft was caught on camera flying from the Scottish government-owned Highlands and Islands Airports Limited (Hial) Inverness Airport, last summer.
Stuntmen and a film crew also made parachute jumps at an airstrip in the Cairngorms as part of the production.
Parachutists dressed in black and, using a private jet painted black, flew out of Cairngorm Gliding Club's site at Feshie Bridge.
The Dark Knight Rises is one of several forthcoming blockbusters with scenes shot in the Highlands.
New James Bond film, Skyfall, and sci-fi movie Under the Skin both involved filming in Glencoe.
Prometheus, which marks director Ridley Scott's return to the Alien films, features scenes shot on Skye.