Rare damselfly influences time scale of Aviemore Tesco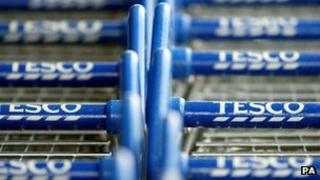 The time scale for building a new Tesco in Aviemore will be determined by how soon a rare invertebrate can be moved from the site, the company has said.
The Cairngorms National Park Authority has approved plans for the store, which will replace the town's existing supermarket and create new jobs.
However, a condition of the consent is the safe translocation of damselfly.
The park authority has recommended that Tesco works with the British Dragonfly Society.
A pond on the former Santa Land site provides habitat for Northern Damselfly.
Tesco said it would not be safe to keep the pond, but has offered to protect trees and put up bird and bat boxes.
Following the park authority's decision, Tesco corporate affairs manager Doug Wilson said: "The time scales for this project will be driven by the translocation of the habitats of the damselfly.
"We will continue to work extremely closely with the Cairngorms National Park Authority to find a successful conclusion."
Duncan Bryden, park planning committee chairman, said the new and larger store would help the local economy and reduce car journeys to shop in Inverness.
He said: "The design uses local stone and timber and will add to the Aviemore streetscape.
"Many green features have been included to lower the carbon footprint of the store."
Mr Bryden added: "We raised serious concerns with Tesco about wildlife conservation, in particular a rare population of the Northern Damselfly living on the site and these are being carefully addressed.
"Firm planning conditions attached to the permission require their sensitive relocation to another suitable pond nearby."