Camera traps capture new Scottish wildcat sites in the Cairngorms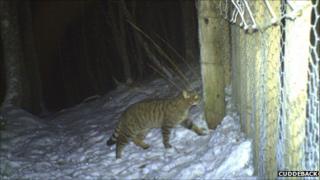 Previously unknown populations of Scottish wildcats are living in the Cairngorms National Park, conservationists have discovered.
The new pockets of habitation have been identified by camera traps which captured images of the animals across the park and beyond.
The Cairngorms Wildcat Project has also helped raise awareness about the cats.
However, scientists warn the species remains under threat because of cross-breeding with domestic and feral cats.
The Scottish wildcat, or Highland Tiger as it is sometimes known, is larger and much fiercer than its domestic cousin.
It is estimated there are only about 400 left in the wild and for the past three years researchers have been using camera traps to gain an insight into the lives of the animals.
Shy and secretive
Dr David Hetherington, from the Cairngorms National Park Authority, led the project.
He told BBC Scotland: "The Cairngorms Wildcat Project was established to secure the future of this very shy and secretive animal not only within the boundaries of the Cairngorms National Park, which is thought to be a stronghold for the species, but also across a wider area of Scotland."
The images captured by the camera traps have helped scientists gain a much better understanding of wildcat distribution and the biggest threat to their survival - hybridisation as a result of cross-breeding.
Dr Hetherington said: "The camera traps have been particularly helpful in verifying the occurrence of wildcats and hybrids.
"Wildcats have also been confirmed in some parts of the Cairngorms National Park where they were not previously thought to live."
In total, there were 465 potential wildcat sightings around the national park. The findings suggest the species is especially rare in Donside, Deeside and the Angus Glens, but does still live in Badenoch and Strathspey, Perthshire and, possibly, Glenlivet.
Experts said the neutering of domestic and feral cats living in wildcat territory would be essential and cat owners were encouraged to participate in voluntary neutering and vaccination programmes.
Scottish Environment Minister Stewart Stevenson said: "The support of the public and land managers for conservation work in this area is vital if we are to see a recovery from the perilously low numbers of wildcats in the Scottish countryside at present.
"The research that has been carried out, and the work in reducing the risk of inter-breeding, are also key elements in protecting the wildcat - one of Scotland's most charismatic and fascinating wild animals."
The project involved the Cairngorms National Park Authority, Scottish Natural Heritage, the Scottish Gamekeepers' Association, the Royal Zoological Society of Scotland and Forestry Commission Scotland.
As well as the camera traps, sightings were also published on the www.highlandtiger.com website.